From Dashboard > Domains > Bulk operations (dropdown menu)

Netistrar's Domain Name bulk operations are accessed from the Dashboard Domain name listing screen.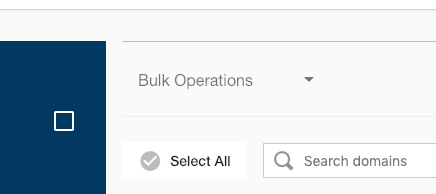 Although bulk operations are available to all customers, they will be of particular interest to business customers, trade customers, and hosting providers - those who may be managing a catalogue, portfolio, or large quantity of domain names and assets (for themselves or others).
Bulk operations are available for any subset of one or more domain names - simply click on one or more domain names in your dashboard 'Domains' list, and the bulk dropdown tools will become available.
Export to CSV
The first menu item allows you to export domain name lists, including meta-information into a downloadable CSV file.
Edit contacts
The 'Contact details' bulk operation allows you to change the registrant, administration, technical contact details for one or more domain names in a single, bulk transaction.
Note, to make this progress easier you can apply a contact template to those records. Review the documentation for setting up contact templates.